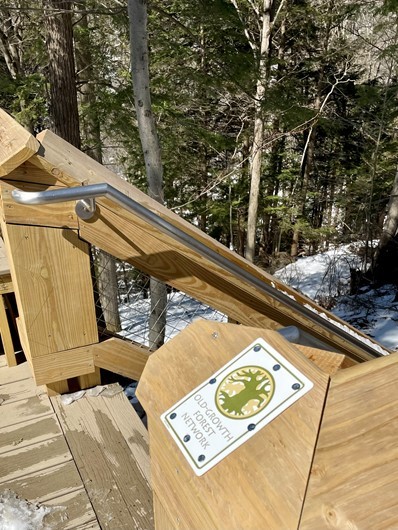 ~reprinted from the New York State Department of Environmental Conservation Weekly Digest Bulletin.
~Annotated by T. Gath
Last month, DEC's Carpenter Falls Unique Area and the adjoining Finger Lakes Land Trust's Bahar Nature Preserve shared the honor of induction into the Old-Growth Forest Network, representing Cayuga County. The properties now hold the distinction of providing public access to picturesque forest that will be protected from harvesting and allowed to mature into old growth forest.
Carpenter Falls Unique Area and the Bahar Nature Preserve, contiguous properties in the town of Niles, together protect over 6,420 feet along Bear Swamp Creek, which flows through a dramatic 100-foot-deep gorge on its way to Skaneateles Lake. The forest within the gorge harbors Eastern hemlock, red oak, giant tulip trees, and very large oaks well over 100 years old. Together, the properties form a 90-acre retreat with a 1.6-mile trail that leads visitors through a stunning forest with impressive views and plunging waterfalls.
To maintain the unique, deep-shade forest habitat that hemlocks provide, emblematic of many gorges in the Finger Lakes region, both the DEC and the Finger Lakes Land Trust are treating the most ecologically important trees to protect against further infestation of the invasive hemlock woolly adelgid.