A Week in Juneau Alaska by Cathy ONeill
September marks the "end of the season" for tourism to Alaska. Less crowds means more intimate experiences in hiking, excursions, and in restaurants. (And 75% off in shops) The weather is cool and can be rainy but as the locals do, come prepared and you are not limited in what you can do. We got a great deal on flights via Alaska Airlines and stopped in Anchorage first. In a short tour with family, we saw 6 pods of Beluga whales just minutes from the airport along the Turnagain Arm which borders the Cook Inlet that opens to the Gulf of Alaska. The tide here is called a "Bore Tide" and it comes in with a roar and raises the water levels 50' or more! On that same roadway if one looks up at the mountains, one will see herds of large white Dahl sheep. Bald eagles are everywhere in Alaska. Locals say there is 1 eagle for every 2-3 people.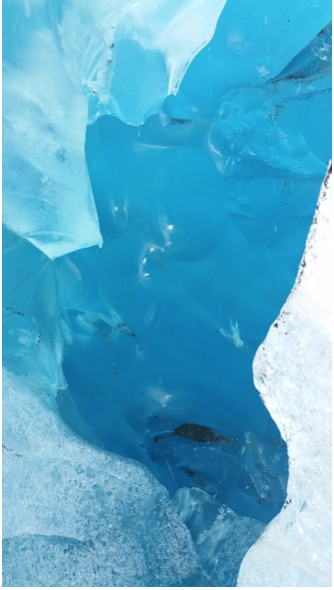 After a short plane ride to Juneau, we arrived at our beach front cottage rented via VRBO (Otter Way Cottage) on Indian Cove in Auke Bay. We enjoyed panoramic views from massive windows and watched sea otters playing, and the largest eagles we have ever seen. It was a wonderful retreat after rigorous hikes to come home to a warm pellet stove, glass of wine, and that view. Everything is close, easy driving, and often free in Juneau. Mendenhall Glacier Park was so wonderful that we went several times. The rigorous East Loop hiking trail is well worth the effort!
Our last few days we moved to the Four Points Sheraton Hotel in downtown Juneau. From there we could walk to excursions, restaurants, museums, shops, or take short drives to hikes and parks. We took Liquid Alaska Tours for both our whale watch and glacier hike. Both were incredible! We saw over 10 Humpback whales and were lucky enough to have a huge whale approach our boat. It was so close that we could even hear it singing! We were awestruck! The 4 mile canoe trip across Mendenhall Lake to the glacier and hike with crampons was thrilling. There is nothing like climbing on top of a glacier on a sunny day. The blue and turquoise colors of the ice and glacier streams are magnificent. Our guide took us into ice caves which looked like they were made of blue glass. It was exhilarating!
The restaurants in Juneau serve the sweetest king crab on earth, every bite was worth every penny. Tracey's Crab Shack sample platter will go down as one of the best meals we have eaten anywhere. We gorged on the many types of fresh salmon and halibut in breakfast omelets, burgers, tacos, and appetizers. Memorable to say the least. Another local favorite that was a delight was the Pel'meni House (Russian Dumplings). Alaska was more than we ever expected. We can't wait to go back to do Anchorage and Denali Park with the same cottage, car rental approach.